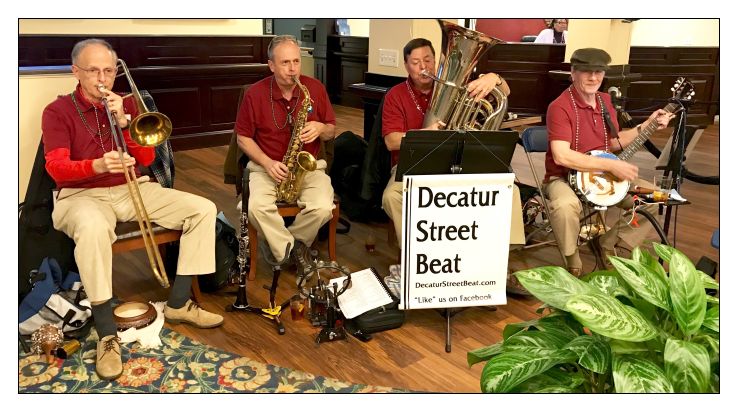 Dick Sloane, Keith Longmire, Irv Eisen, Dan Cunningham
Photo courtesy of D. M. Strickland


Decatur Street Beat
has played foot stomping, toe tapping, New Orleans style Dixieland music since 2004. They have played for 4th of July picnics at the beach, Mardi Gras parties, birthday parties, local restaurants, a jazz festival in Virginia, a number of senior living centers in the Durham area and even some jazz funerals. The group is made up of experienced Dixieland musicians. They took their name from Decatur St. which runs through the French Quarter past Jackson Square, Cafe du Monde and Tujagues, the tuba player's favorite restaurant. They want to bring to central North Carolina what they feel is the happiest, liveliest and easiest music to listen to.

Dick Sloane, trombone, has played actively with a number of Dixieland bands in the Triangle area since 1982. He is the leader of the Fidgety Feet Dixieland band. Dick retired from the National Institute of Environmental Health Sciences in the Research Triangle Park.





Keith Longmire, clarinet and saxophone, is a retired band director from the Durham Public Schools, having taught his last 15 years at Carrington Middle School. He has also taught in Columbus County and Granville County Schools. Keith repairs, buys and sells woodwind instruments, so if you are looking for a clarinet or saxophone, Keith's your man. Check out his web site. Keith also plays with Leon Jordan's Continentals Dance Band.



Irv Eisen started playing the tuba in the seventh grade in St. Louis. He received a degree in music education from the University of Missouri at St. Louis, played at 'Your Father's Mustache' on Bourbon St. in the early 1970's and freelanced in St. Louis. Having retired as a computer systems manager for Duke University, Irv plays with the Triangle Tuba Quartet and Decatur Street Beat. He is listed in Tom Lord's JAZZ Discography.

Dan Cunningham plays banjo, guitar washboard and sings. He performs a wide variety of musical styles in addition to Dixieland. A native of Wichita, Kansas, he started playing at the ripe young age of six and has played music in much of the Midwest, the South and even Ireland. Dan holds Associate and BA degrees from Wichita State University and an MA degree from the Assemblies of God Theological Seminary. Dan is married and the father of three.
Upcoming and Recent Performances


UPCOMING
Dec. 31, 2021 - 7:00 - 9:00 pm, New Year's Eve Party at Azalea Estates in Chapel Hill

RECENT
Sep. 17, 2021 - 7:00 - 9:00 pm, Roots Bistro and Bar, 4810 Hope Valley Rd., Durham
Click Here for More Info.

Sep. 18, 2021 - 8:00 am, Benefit for the SOLA Hot Mini 5K at the SOLA Coffee Cafe in Raleigh, NC
Click Here for More Info.

Aug. 20, 2021 - 7:00 - 9:00 pm, Roots Bistro and Bar, 4810 Hope Valley Rd., Durham - CANCELLED

Aug. 14, 2021 - 7:00 - 9:30 pm, 60th Anniversary Party at Maggiano's Little Italy

Jul. 16, 2021 - 7:00 - 9:00 pm, Roots Bistro and Bar, 4810 Hope Valley Rd., Durham

Jul. 4, 2021 - Time TBD - 4th of July Celebration at The Cedars in Chapel Hill

Jun. 27, 2021 - 3:00 - 6:00 pm, Backstreet Pub, 124 Middle Ln, Beaufort, NC 28516

Jun. 18, 2021 - 7:00 - 9:00 pm, Roots Bistro and Bar, 4810 Hope Valley Rd., Durham

May 21, 2021 - 7:00 - 9:00 pm, Roots Bistro and Bar, 4810 Hope Valley Rd., Durham

May 5, 2021 - 4:00 - 6:00 pm, Outdoor Cinco de Mayo Concert for Chapel Woods Neighborhood

Mar. 17, 2021 - 3:00 - 4:00 pm, St. Patrick's Day event at Carolina Meadows

Mar. 16, 2021 - 3:00 - 4:00 pm, St. Patrick's Day event at The Forest at Duke

Mar. 12, 2021 - 4:00 - 6:30 pm, Wedding at Fearington House

Feb. 16, 2021 - 2:00 - 4:00 pm, Outdoor Mardi Gras Concert for Chapel Woods Neighborhood

Dec. 4, 2020 - 7:00 - 9:00 pm, Roots Bistro and Bar, 4810 Hope Valley Rd., Durham

Nov. 6, 2020 - 7:00 - 9:00 pm, Roots Bistro and Bar, 4810 Hope Valley Rd., Durham

Oct. 9, 2020 - 7:00 - 9:00 pm, Roots Bistro and Bar, 4810 Hope Valley Rd., Durham

Sep. 19, 2020 - 8:30 am, Sola Hot Mini 5K Benefitting ALS Research, Raleigh - CANCELLED

Jun. 29, 2020 - 7:00 - 8:00 pm, Entertain the residents at Carolina Meadows
We will be on the golf course and observing proper social distancing.

Apr. 3, 2020 - 6:30 - 8:30 pm, Roots Bistro and Bar, 4810 Hope Valley Rd., Durham - CANCELLED

Mar. 21, 2020 - 10:00 am - Noon, Cafe Carolina and Bakery in Meadowmont Village - CANCELLED

Mar. 17, 2020 - 3:00 - 4:00 pm, St. Patrick's Day Party at the Forest At Duke - CANCELLED due to Coronavirus

Mar. 6, 2019 - 6:30 - 8:30 pm, Roots Bistro and Bar, 4810 Hope Valley Rd., Durham

Feb. 25, 2020 - 6:00 - 7:00 pm, Mardi Gras Party at Atria Southpoint Walk in Durham

Feb. 25, 2020 - 3:30 - 4:30 pm, Mardi Gras Party at the Passmore Center in Hillsborough, NC

Feb. 20, 2020 - 5:30 - 7:00 pm, Mardi Gras party at Hillcrest Convalescent Center in Durham

Feb. 15, 2020 - 10:00 am - Noon, Cafe Carolina and Bakery in Meadowmont Village

Feb. 7, 2019 - 6:30 - 8:30 pm, Roots Bistro and Bar, 4810 Hope Valley Rd., Durham

Jan. 18, 2020 - 10:00 am - Noon, Cafe Carolina and Bakery in Meadowmont Village

Jan. 3, 2019 - 6:30 - 8:30 pm, Roots Bistro and Bar, 4810 Hope Valley Rd., Durham